Alabama begins its 2018 season in Orlando in a matchup with the Louisville Cardinals.
This story is part of an 11-week long breakdown BamaOnLine is doing of every game on the Crimson Tide's 2018 schedule (sorry, The Citadel). And we begin with the Cardinals.
Here's a look at what Louisville's coaches and players are saying out of spring practice.
Head coach
Bobby Petrino
On quarterback Jawon Pass…
"Jawon has tremendous respect from his teammates," Petrino said,
per GoCards.com
. "He has enough self-confidence and belief in his himself to go out there and perform. … I want to see Jawon be a little more urgent. He's a laid-back guy. He needs to walk to the huddle a little faster. He's very intelligent and really knows the game. He needs to just relax and play."
On the Cardinals' running game...
"I'm not sure who will be the top rusher will be on the team next year, but I'm sure it will be a running back," Petrino said with a laugh,
per GoCards.com
. "We have a lot of talent at the running back position, with
Dae Williams
,
Colin Wilson
, and Trey Smith has had a good spring."
On facing Alabama...
"It's a great challenge for us," Petrino said,
per The Courier-Journal
. "Great opener for us. It gives us a lot to work for in the offseason, a lot to work for all summer long."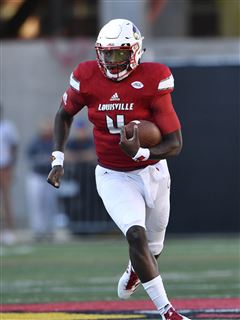 Louisville QB Jawon Pass (Photo: Jamie Rhodes, USA TODAY Sports)
Co-Offensive coordinator
Lonnie Galloway
On Louisville's wide receivers...
"This is definitely a good group," Galloway said,
per GoCards.com
. "I'm looking for three or four guys that will step in and take control of the room. Competition is the best thing for every position. I need everyone to be pushed. … They're all back. It's the same group, besides Jatavious (Harris) and Tutu (Atwell), who came in early, that were out there on Saturday last season. I expect even more from them this season."
Cornerbacks coach
Grady Brown
On first-year defensive coordinator Brian VanGorder...
"We are all trying to learn this new defense," Brown said,
per GoCards.com
. "I didn't know a lot about this defense, but Brian is very detailed, and it has been good. It's a very detailed system, and as long as we continue to put the work in, the scheme will put us in position to have success."
Quarterback
Jawon Pass
On his goals during the spring...
"I was trying to put the offense in the best play possible to be successful," Pass said,
per GoCards.com
. "I have a long way to go. I'm doing pretty well, but I still have a lot of work to do. I'm just trying to be the best player that I can be and win games. ... I'm just trying to be consistent with my technique and footwork. I have work to making the right checks, putting us in the right play and recognizing the defense."
On facing Alabama...
"To me, it's an opportunity to show the world where we stand going against the best," Pass said,
per The Courier-Journal
. "So, we look forward to it."
Cornerback
Rodjay Burns
On facing Alabama...
"We put our pads on like they put their pads on," Burns said,
per The Courier-Journal
. "They're not scary because they won the national championship. We're gonna play ball."
What they're saying about Alabama Football: Louisville Cardinals